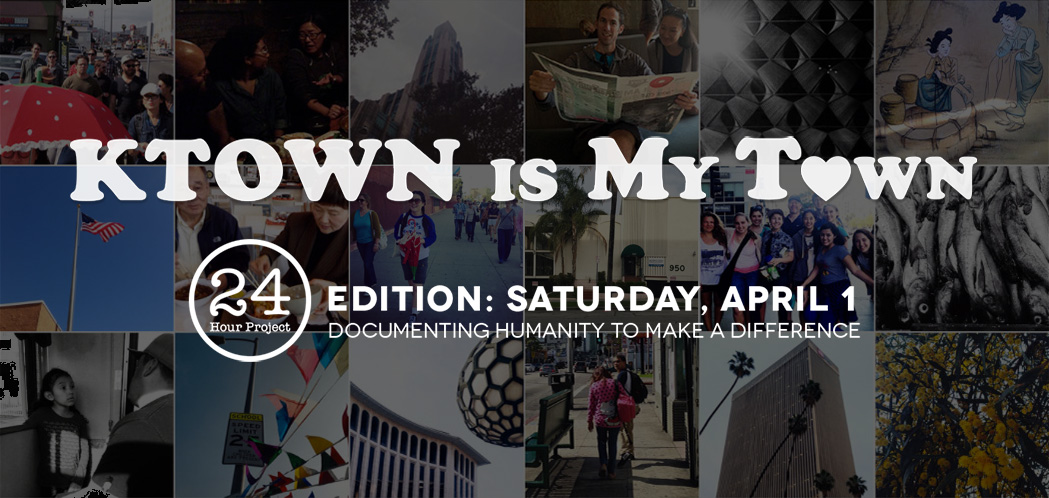 Hey, what are you doing this Saturday? Wanna do something wacky? Why not hang out with me in Koreatown for 24 hours? No? Come on …
This year will be my fourth year participating in a world-wide street photography event called the 24 Hour Project. Participants from around the world take photos of their city, posting an image every hour for all 24 hours. I decided to spend my 24 hours in Koreatown and have created an itinerary of experiences for you to participate in. They're not photography experiences, just opportunities to discover a new fact or two about this diverse neighborhood and check out some eateries and shops you may not have known about before. The experiences will be loose, mostly because I will be sleep-deprived and looking for photo opportunities while eating and walking with you. You are welcome to come to one or all experiences, and you don't even have to stay for the whole thing if you'd rather venture off on your own or, you know, have a life to get back to.
Here's the latest plan. I'm cobbling this together at the last minute (bad Helen) so the schedule is subject to change.
If you'd like to join me on Friday, March 31, at Dan Sung Sa, you MUST RSVP. Shoot me an email at info@ktownismytown.com. There will be a 15-minute wait time at the top of each experience for late-comers. Hope we don't miss you if you're any later than that! If you try to contact me any time during the day, I want to warn you now that it'll probably be useless — I will have lost the ability to multitask and most likely will not respond.
– 01:30 LATE NIGHT EATS
RSVP required by Friday, 6pm
Dan Sung Sa / Gaam Karaoke
Help me kick things off on Friday, March 31, at 10:30pm. We'll grab a little bite and a little drink at Dan Sung Sa, a pojangmacha (kind of like a Korean pub) and a Koreatown mainstay since forever. I'll be on my merry way along 6th Street afterwards but you are welcome to continue your own merriment at Gaam Karaoke (not to be confused with Gaam Bar in Chapman Plaza down the road). Gaam, like Dan Sung Sa, offers cheap thrills and happens to be in the same strip mall.
Address: 3317 W 6th St, 90020 [map]
Parking: valet ($2) or street (it'll be a challenge)
Notes: the bill at Dan Sung Sa will be split evenly among guests. It's a cheap place, though, so you don't need to sweat!
---
02:30 LATE LATE NIGHT EATS + LA RIOTS + ARCHITECTURE
Denny's / Wilshire Center
Why go home after the bars close? Grab some fries and a shake at the Denny's located in the family Pellisier Building. Afterwards, we'll go for a little walk on Wilshire Blvd., taking in the Pellisier Building, Wiltern Theater, Wilshire Colonnade, Wilshire Blvd Temple and St Basil Church. I'll try to remember what the LA Riots of 1992 were like along the way.
Address: 3750 Wilshire Blvd, 90010 [map]
Parking: garage on Oxford or street
---
06:00 MMM, DONUTS
California Donuts / Little Bangladesh
We'll grab early morning donuts at this 24-hour joint and then walk around, maybe towards the McDonald's on 3rd and Vermont to see if any Korean grandparents are already enjoying their "silver" (senior citizen) discounts. I'll share briefly about Little Bangladesh, a relatively new enclave within Koreatown.
Address: 3540 W 3rd St, 90020 [map]
Parking: lot or street
---
09:00 SLURP YOUR BREAKFAST
Sun Nong Dan / City Center on 6th / Jjimjilbang (Korean Spa)
Skip the bacon and eggs and try a traditional Korean breakfast of rice and soup at this well-known 24-hour eatery that gets the thumbs-up from Jonathan Gold. Once we're sufficiently smelling of garlic, we'll walk over to City Center on 6th, one of the many malls that cater to Koreans. We can grab some Korean-style pastries and I'll provide tips on Korea-centric shopping around town. For those of you interested in a Korean spa experience, pack your toiletries and head on up to Crystal Spa, located upstairs at the mall. Crystal Spa uses Aveda products exclusively and has general areas that the whole family can enjoy together.
Address: 3470 W 6th St #7, 90020 [map]
Parking: lot, street or City Center on 6th (enter lot on Mariposa Ave)
Notes: If you're planning on joining us just for breakfast, you can park at the restaurant. If you want to go across the street to the mall, you may consider parking AT the mall, and walking over to the restaurant. The mall requires validation from one of the shops for free parking but you can take care of what with a little shopping at the supermarket or a cup off coffee from the bakery. City Center is located at 3500 W 6th St, 90010 [map] and you can access the parking lot from Mariposa Ave. Crystal Spa is open daily from 6am to 12am.
---
13:00 LUNCH ON WESTERN
The Bun Shop or Sumo Dog / Madang Plaza / K-Town Basics
We'll try to grab lunch at The Bun Shop but if it's too packed, we'll walk down Wilshire to grab some fancy hot dogs at Sumo Dog. Afterwards, we'll grab some Takiyaki ice cream and shaved ice at Madang Plaza. You may also want to do some shopping here: the mall features a Korean supermarket, K-beauty shops and Daiso. During our walk, I will share some Koreatown knowledge which I may or may not have ripped off of Wikipedia.
The Bun Shop Address: 151 N Western Ave, 90004 [map]
Sumo Dog Address: 516 S Western Ave, 90020 [map]
Parking: street
Notes: Please allow enough time to find parking. You can take the bus from Madang Mall (Western and 6th) back up to The Bun Shop if the walk back to your car seems like too much. You may use your TAP card or pay cash ($1.75 for adults, $1 for children). Buses run very regularly on Western Ave so you won't have to wait long.
---
16:00 MEMORY LANE
7-Eleven / The Kim Family's First Apartment / Wilton Place Elementary School / Hwa Sun Ji Tea and Coffee
We — ok I — will grab a slurpee at 7-Eleven then show you the first apartment my family lived in when we immigrated to the US. I'll take you on the route I took to Wilton Place Elementary School. We will continue up to Wilshire Blvd where we'll stop by Hwa Sun Ji for some Korean tea and snacks. This is probably the most tour-like experience of the day.
7-Eleven Address: 3477 W Olympic Blvd, 90019 [map]
Apartment Address: 950 S Gramercy Pl, 90019 [map]
Parking: street
Notes: Please allow enough time to find parking and keep in mind that you will have to walk back to your car from the tea shop (or wherever you decide to conclude the experience). Sorry, I know nobody walks in LA.
---
23:00 LAST CALL
Monte Carlo Bar
By this time, I will have been up for over 30 hours! Help me make it through the final moments with some dive bar booziness.
Address: 3514 W 3rd St, 90020 [map]
Parking street parking is rough but sneak a spot at Ralph's across the street
Notes: Wherever we end up meeting, I'll probably be here just till midnight, and then it's off to bed for me!
---
This year, 24 Hour Project has partnered with Lesvos Solidarity in order to bring awareness to the refugee crisis. Lesvos Solidarity, also known as "PIKPA camp", is an open refugee camp in Mytilini, Lesvos in Greece that provides humanitarian support to the most vulnerable refugees including families with children, pregnant women, refugees with disabilities, refugees who suffer from serious medical conditions and victims of shipwrecks who lost loved ones in the sea.